After the EnVision Leadership program and camp, the students were infused with a newfound understanding of and passion for facilitating positive change within our community. The EnVision team's ability to relate and connect to the students allowed all of our participants to feel comfortable expressing themselves in an environment of support and trust. After the leadership camp, word spread so quickly about our high school service club and nearly 200 students showed up for our first meeting of the school year!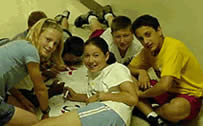 Kristen Alexander,
Program Director, New Generations
Barrington, IL
Overview
Envision Leadership offers its expertise in developing and implementing leadership education in a number of different settings and contexts, from camps and workshops for students aged K-12 to permanent in-house programs for organizations.
Recognizing a void in character-based leadership education for K-12 students, EnVision Leadership has developed services in a variety of formats designed specifically for youth. These sessions are fun, interactive learning experiences that challenge and inspire students to recognize their own leadership potential. Participants are empowered through engaging activities such as team challenges, problem-solving exercises, skits, games, videos, case studies, debates, and discussions. EnVision Leadership's objective for each program is to instill an understanding of leadership as a process and to provide leadership skills to put this understanding into action.
Competency Workshops
Competency workshops that develop specific leadership skills are the building blocks of EnVision programs. These one- to three-hour concentrated sessions are offered independently, or can be integrated into the formats. Workshops empower participants in any of the key leadership competencies listed below and can be adapted to accommodate a range of venues including conferences, camps, retreats, after-school programs, and orientations.
Leading with Character
Communication and Public Speaking
Building Inclusive Communities
Leading Change
Leadership as a Team Process
Service & Community
Self-Awareness & Emotional Intelligence
Innovation and Creativity
Vision Statements & Goal Setting
Developing Youth Leadership
Adults and Youth Working Together
Leadership and Transition
Clients
EnVision Leadership tailors its programs to meet the needs of a wide variety of clients, including:
Middle school students
High school students
College students
Student governments
Sports teams
Student clubs
Coaches
Parents
Teachers
Businesses
Nonprofits
Volunteers
Retreats
Leadership Retreats are an excellent opportunity for participants to reflect on their individual leadership practices and collaborate with peers on improving group dynamics. EnVision Leadership will provide leadership coaches to facilitate individual and team reflection, team-focused leadership activities, adopt vision statements, and develop specific leadership skills. Retreats can be formatted for any number of days depending on the objectives of your organization and the leadership competencies that need to be covered.
Curriculum Consultation & Development
EnVision Leadership offers its expertise in curriculum development and implementation to organizations seeking to create or revise a leadership education program. EnVision collaborate with the organization at all stages of development, including program review, needs assessment, surveys, pilot programs, evaluation, facilitator training, implementation, and program maintenance. EnVision Leadership believes that the positive impact of leadership education results from programs that are sustainable, interactive, and cognizant of linking leadership outcomes to the organization's program objectives.
Programs
EnVision Leadership believes that the positive impact of leadership education results from programs that are sustainable, interactive, and cognizant of linking leadership outcomes to program objectives. Below are a list of programs that have been collaboratively developed between EnVision Leadership and program partners. Partners have included universities, corporations, school districts, nonprofits, fraternities & sororities, and community groups.
Please call our team to discuss ways to share the power of leadership education with more students and communities!
Agents of Change
For more information please visit our new Agents of Change section.
An innovative leadership development program that empowers a diverse team of high school students with leadership skills, mentorship, an internship opportunity, and resources to lead action projects in the community.
Leadership in Action
Leadership in Action is a student-driven program designed to empower participants as community organizers and leaders. EnVision Leadership has designed a two or three-day leadership-training program that covers the following leadership competencies: Appreciating Diversity, Self-awareness, Servant Leadership, Communication, Ethics and Character, and Leading Change.
EnVision Leadership will provide leadership coaches, curricula, and resources to assist groups in implementing this program. Leadership in Action provides an excellent opportunity to involve students that do not serve in "official" leadership positions, or schools that are focused on cultivating stronger peer-relationships. This program can complement an existing program and be tailored to suit specific leadership competencies that coordinators and educators are interested in developing in participants.
In most Leadership in Action programs, participants will work collaboratively to design and implement a Leadership in Action project following the leadership training. Past programs and events planned by Leadership in Action participants have included: Service Events, Speakers Series, Neighborhood Revitalization Projects, Leadership Camps, and Community Conferences.
Leadership Coach Training
Leadership Coach training is for students, parents, teachers, educators, and volunteers who want to become mentors and resources for youth leadership development. In order to make leadership a part of every student's education it is critical for all members of communities to encourage students to develop their leadership ability and apply their skills in a variety of settings. Most importantly, effective coaches model the leadership values that they want to instill in students.
We train leadership coaches to serve as experience facilitators that are capable of implementing our leadership curricula in a variety of settings including: summer programs, school-based programs, at home, on teams, and in the community.
Leadership Camps
EnVision Leadership has developed a three-day inclusive community camp for middle school students. High school students are trained as leadership coaches that are involved in the coordination and facilitation of the camp. Camp participants and coaches work together to learn about leadership through fun games, team challenges, an extensive leadership curricula, and community action projects.
EnVision Leadership can also work with you to enhance an existing camp or student program with additional leadership education curricula that is tailored to the emotional and developmental needs of participants.
Leadership for Life
EnVision Leadership collaborated with Delta Gamma in 2003-2004 to design Leadership for Life, a leadership development program designed for all members of Delta Gamma. The comprehensive program is an ethics-based development experience that was designed for collegians to members celebrating 50, 60, even 70 years of membership! Leadership for Life empowers members for a lifetime of personal growth. The program is distinguished by the following:
Leadership-training guides and facilitator resources
300+ page curriculum that includes leadership activities and self-assessment tools
an Independent Study course that can be completed individually or in small groups.
Leadership modules that focus on assisting participants to put their learned leadership skills and advanced leadership awareness into action to lead change in their various life contexts: personal lives, chapters, families, organizations, and communities.